NASDAQ 100 Index Stocks Trading at new Yearly Highs
This is a chart of how many stocks in the NASDAQ 100 Index Index are trading new yearly highs, plotted below a chart of the NASDAQ 100 Index. Areas of strength in this stock market breadth indicator are highlighted with a red background (over bought), and areas of weakness are highlighted with a green background (over sold).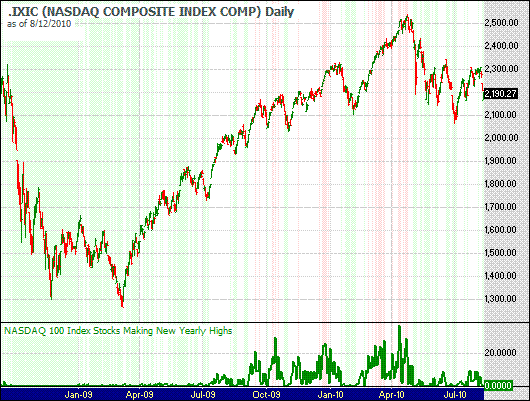 As of right now, 8/12/2010, the indicator is Over Sold, with 0 stocks in the NASDAQ 100 index trading at new yearly highs.
Click here for more information on market breadth.
Here are some other NASDAQ 100 Composite market breadth indicators that may be of interest:
NASDAQ 100 Composite stocks trading at new yearly lows
NASDAQ 100 Composite stocks trading above their 200 day moving average
NASDAQ 100 Composite stocks trading above their 50 day moving average
NASDAQ 100 Composite stocks trading above their 40 day moving average